Audi Q3: Limitations
Applies to: vehicles with adaptive cruise assist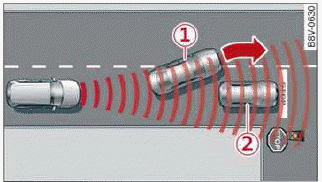 Fig. 95 Example: vehicle changing lanes and stationary vehicle

Fig. 96 Example: driving into a curve
In some situations, the adaptive cruise assist function is limited and you must assume control of the vehicle when necessary, for example by applying the brakes.
If a vehicle that was already detected 1 turns or changes lanes, the adaptive cruise assist will react to the vehicle ahead of it 2.
When driving into a curve fig. 96 and out of a curve, the system may react to a vehicle in the neighboring lane and apply the brakes. You can override the system by pressing the accelerator pedal briefly.
The system works with the various sensors and cameras in the vehicle. Vehicles can only be detected once they are within the area and range covered by the sensors.
When driving around tight curves, a vehicle driving ahead that was previously detected may no longer be detected, and the adaptive cruise assist may accelerate unexpectedly.
The system does not react to a stationary vehicle in the same lane if it expects that you can easily drive around the stationary vehicle by turning the steering wheel.
The system cannot react to stationary objects, such as vehicles at the end of a traffic jam, especially when traveling at high speeds.
The system has a limited ability to detect vehicles that are a short distance ahead, off to the side of your vehicle, or moving into your lane.
Objects that are difficult to detect, such as motorcycles, vehicles with high ground clearance, or vehicles with an overhanging load, may be detected late or not detected at all.
The system does not respond to people, animals, or objects that are crossing or approaching from the opposite direction.
WARNING
Observe the safety precautions and note the limits of the assist systems, sensors, and cameras.
READ NEXT:
Applies to: vehicles with adaptive cruise assist Fig. 97 Instrument cluster: display in speedometer Fig. 98 Instrument cluster: driver assistance display Indicator lights and messages in the speedom
Applies to: vehicles with adaptive cruise assist Fig. 99 Lever: using adaptive cruise assist Fig. 100 Operating lever: changing the speed Switching on To switch on the adaptive cruise assist, pul
Applies to: vehicles with adaptive cruise assist and lane guidance Fig. 101 Turn signal lever: button for lane guidance and lane departure warning Within the limits of the system, lane guidance provi
SEE MORE:
Operating Applies to: vehicles with voice recognition system Fig. 18 Center display: voice recognition system Requirement: the ignition and the MMI must be switched on. A system language supported by the voice recognition system must be set. There must be no phone calls in progress and the parking
Trailer brakes If the trailer has its own brake system, then follow the manufacturer specifications. However, the brake system on the trailer must never be connected to the vehicle brake system. Safety chains Make sure the safety chains are correctly applied when pulling a trailer. The chains should