Audi Q3: Switching lane guidance on and off
Applies to: vehicles with adaptive cruise assist and lane guidance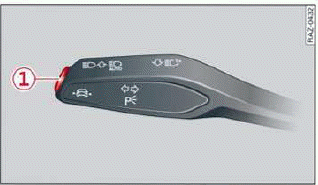 Fig. 101 Turn signal lever: button for lane guidance and lane departure warning
Within the limits of the system, lane guidance provides corrective steering to assist the driver with keeping the vehicle in the center of the lane as much as possible. This feature can be deactivated.
Switching lane guidance on and off
Requirement: lane guidance must be preselected in the MMI.
To activate or deactivate the availability of the lane guidance, press the button 1 on the turn signal lever.
The system will assist the driver by providing corrective steering only when adaptive cruise assist is actively regulating and availability is switched on.
Overview of displays and lane guidance limitations
The availability of lane guidance is shown with indicator lights and with arrows 11

fig. 98 in the Driver assistance display.

- Lane guidance is active.

- This indicator light turns on if the limits of the system have been reached (for example, the system's steering force is not sufficient to handle tight curves). Take over steering.
If

turns white, lane guidance is switched on but is not active. This may occur due to the following system limits or situations:
The necessary lane marker lines have not been detected (for example, in a construction zone or because the lines are obstructed by snow, dirt, water, or lighting)
The lane is too narrow or too wide
The curve is too narrow
Visibility is obstructed by a rise or dip.
The driver's hands are not on the steering wheel
The turn signal was activated.
Steering intervention request
If no steering activity is detected or the limits of the system are reached, the driver steering intervention request will alert the driver using audio and visual signals, such as

or

. Take over the steering and keep your hands on the steering wheel so that you will be ready to steer at any time. The system will become inactive after a short time and will only be active again later.
If the driver does not take over steering, adaptive cruise assist will be canceled. If the vehicle is equipped with emergency assist and it is ready to function, it will be activated if possible.
WARNING
Observe the safety precautions and note the limits of the assist systems, sensors, and cameras.
Tips
Always keep your hands on the steering wheel so you can be ready to steer at any time. The driver is always responsible for adhering to the regulations applicable in the country where the vehicle is being operated.
Audi recommends only switching on lane guidance on well-constructed roads.
The fig. 101 button switches lane guidance availability and the lane departure warning on or off simultaneously, if lane guidance is preset in the adaptive cruise assist settings.
READ NEXT:
Applies to: vehicles with adaptive cruise assist and predictive control General information With predictive control, efficiency assist adapts the speed set in the adaptive cruise control 1 fig. 97 b
Applies to: vehicles with adaptive cruise assist Fig. 102 Operating lever: setting the distance When approaching a vehicle driving ahead, the adaptive cruise assist brakes to the set speed and then m
Applies to: vehicles with adaptive cruise assist Fig. 103 Lever: overriding the control Requirement: the adaptive cruise assist must be switched on. Overriding control You can completely override the
SEE MORE:
Applies to: vehicles with navigation system and predictive route guidance Your MMI can learn the routes that you drive frequently (such as your daily commute to work and back) and suggest route guidance based on the current vehicle position. When the function is switched on, the MMI records the rou
Description Applies to: vehicles with all wheel drive The all-wheel drive system distributes the driving power variably to the front and rear axle to improve the driving characteristics. It works together with selective wheel torque control, which can activate when driving through curves. The all-