Audi Q3: Operating the peripheral cameras
Applies to: vehicles with peripheral cameras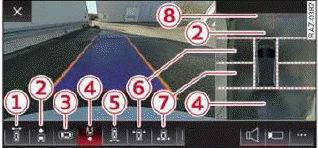 Fig. 117 Center display: peripheral cameras
On vehicles with peripheral cameras, you can select among different views.
Selecting the views
To display the entire selection bar, tap the current view 1 or swipe at the edge of the selection bar from left to right.
To select a view, press 1 - 7 or tap in an area to show the vehicle in the side view1).
1) Requirement: The vehicle surroundings (Camera) is selected and visible in the View in the side area.
Selecting a view in the side area
The vehicle surroundings are shown in the side area of the display. You can switch between a visual display (Graphic) and the vehicle surroundings (Camera).
Select > View in the center display when the parking aid is active.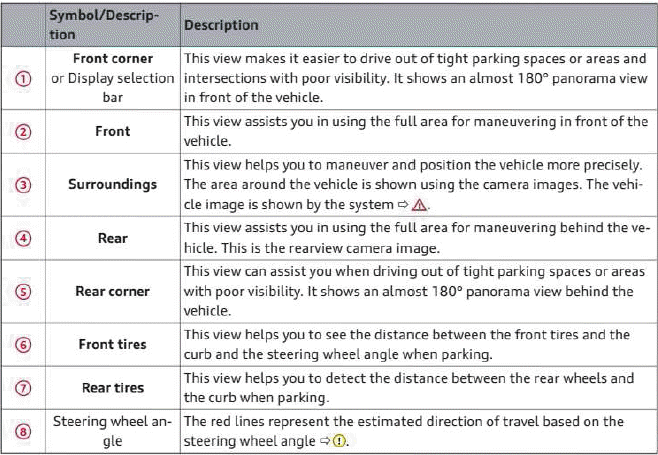 WARNING
Observe the safety precautions and note the limits of the assist systems, sensors, and cameras.
The Surroundings view is created from the individual camera images. The vehicle image is shown by the system. Objects and obstacles above the camera are not displayed.
Note
Only use the images provided by the camera on the rear of the vehicle when the luggage compartment lid is completely closed. Make sure any objects you may have mounted on the luggage compartment lid do not block the rearview camera.
Tips
Depending on the selected gear, it will automatically switch between the Front and Rear views. If you switch the view manually, the automatic front/rear camera change will be temporarily deactivated.
When first activated while a forward gear is engaged, the Front corner is displayed.
READ NEXT:
Description Applies to: vehicles with rear cross-traffic assist Fig. 118 Sensor detection range for rear cross-traffic assist Fig. 119 Center display: rear cross-traffic assist display General infor
General information Applies to: vehicles with park assist If your vehicle is equipped with park assist, this system helps you find suitable parking spaces. Parking spaces are measured using ultrasoni
General information Applies to: vehicles with park assist The park assist helps you when parking and exiting parking spaces after the parking space search. The park assist takes over the steering of
SEE MORE:
Applies to: vehicles with adaptive cruise assist Fig. 102 Operating lever: setting the distance When approaching a vehicle driving ahead, the adaptive cruise assist brakes to the set speed and then maintains the set distance. If the vehicle driving ahead accelerates, then the adaptive cruise assist
Preparation You should only perform the steps that follow if you have the necessary tools and technical expertise. If the engine does not start because the vehicle battery is drained, you can jump start your vehicle using another vehicle. Jump start cables are needed to do this. Both vehicle batteri