Audi Q3: Rear cross-traffic assist
Description
Applies to: vehicles with rear cross-traffic assist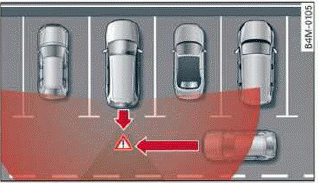 Fig. 118 Sensor detection range for rear cross-traffic assist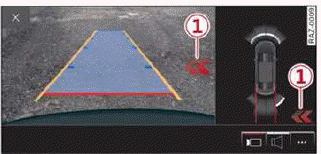 Fig. 119 Center display: rear cross-traffic assist display
General information
The rear cross-traffic assist monitors the area behind and next to the vehicle using radar sensors at the rear corners of the vehicle. The system can detect moving objects that are approaching, such as vehicles

fig. 178. A display in the MMI 1 and various warnings provide assistance when exiting a parking space.
Requirements for using the rear cross-traffic assist:
The parking aid is active.
The speed while driving backwards is not higher than approximately 6 mph (10 km/h).
Displays, warnings, and braking
Display: the display 1 appears only when the parking aid is active. In vehicles with peripheral cameras, the display only appears in the Rear and Rear corner camera views. Arrows show the direction from which the cross traffic is approaching.
Audible warnings: an audio signal may sound as an additional warning when driving in reverse.
Automatic brake activation: if you do not react to a warning, a brief braking by the system can warn you of a potential collision with an approaching object.
The audible warning signal and the automatic brake activation occur only when driving in reverse.
Switching the rear cross-traffic assist on and off
Applies to MMI: Select on the home screen: VEHICLE > Parking aid > Rear cross-traffic assist, or
Select > Rear cross-traffic assist in the center display when the parking system is active.
Messages
If

,

or

is displayed when there is a malfunction, the rear cross traffic assist functions may be unavailable or may be limited.
A message that indicates the cause and possible solution may appear with some displays. The weather conditions may be too poor or a sensor may be covered. Clean the area of the sensors at the rear corners of the vehicle

fig. 91 and try to turn the system on again later.
If the malfunction remains, drive to an authorized Audi dealer or authorized Audi Service Facility immediately to have the malfunction corrected.
WARNING
Tips
Once an automatic brake activation occurs, the system cannot initiate another activation for several seconds.
System functions may not be available if the ESC is limited or switched off, or if there is a malfunction.
If there is an audio warning signal from the rear cross-traffic assist, then the parking aid may not be able to provide audio warnings about detected obstacles under certain circumstances.
The system is not available when the vehicle detects that you are towing a trailer. There is no guarantee the functions will switch off when using a retrofitted trailer hitch. Do not use these functions when towing a trailer.
The system complies with United States FCC regulations and ISED regulations.
The coverage areas of the sensors fig. 118 are diagrams and do not represent a true-to- scale image of the sensor ranges.
READ NEXT:
General information Applies to: vehicles with park assist If your vehicle is equipped with park assist, this system helps you find suitable parking spaces. Parking spaces are measured using ultrasoni
General information Applies to: vehicles with park assist The park assist helps you when parking and exiting parking spaces after the parking space search. The park assist takes over the steering of
Applies to: vehicles with park assist Park assist will be canceled automatically in the following scenario: You switch the system off. You start steering. The speed is too high. The time limit is
SEE MORE:
General information When installing and using child safety seats, follow the information in this Owner's Manual, the applicable state and federal regulations, and the manufacturer instructions for the child safety seat. WARNING To reduce the risk of serious or fatal injuries, children must always be
Types of gasoline The correct gasoline grade is stated on the inside of the fuel filler door. The vehicle is equipped with a catalytic converter and must only be driven with unleaded gasoline. Audi recommends using TOP TIER Detergent Gasoline. For additional information on TOP TIER Detergent Gasol