Audi Q3: Instrument cluster overview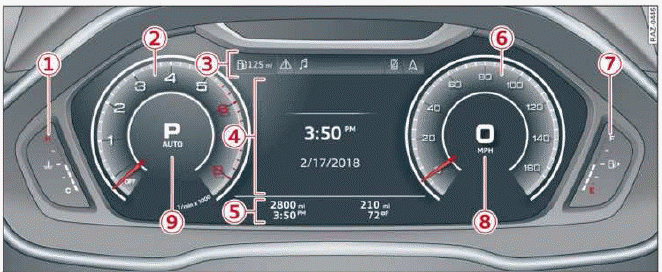 Fig. 2 Audi virtual cockpit plus overview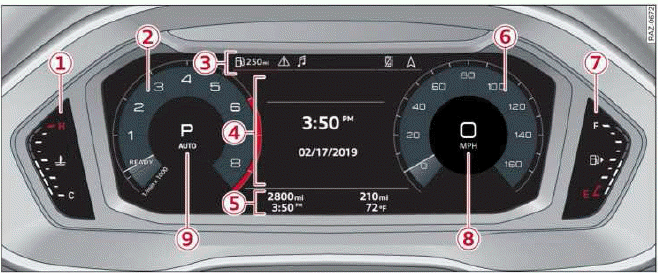 Fig. 3 Digital instrument cluster or Audi virtual cockpit overview
Depending on the vehicle equipment, the following items may appear in the instrument cluster:
Display

Engine coolant temperature

Left dial
Tab area
Central area
Status line (one or two lines)
Right dial
Fuel level
Right additional display with speedometer
Left additional display with:

Selector lever position
Audi drive select mode
WARNING
If there is a serious system malfunction, the display may turn off. The

indicator light may also turn on. Stop the vehicle safely. See an authorized Audi dealer or authorized Audi Service Facility for assistance.
Tips
The following pages primarily show illustrations of the Audi virtual cockpit plus. The display or location of the items that are shown may vary on the different versions of the instrument cluster.
You can select the units used for temperature, speed, and other measurements.
Speeds are displayed in mph (miles per hour) or km/h (kilometers per hour).
Operating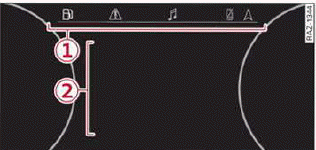 Fig. 4 Driver information system display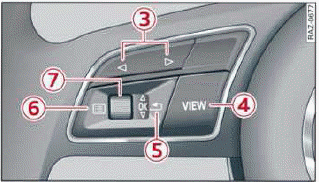 Fig. 5 Left side of multifunction steering wheel
Information is organized within various tabs 1 in the instrument cluster. The tab contents are displayed in the central area 2.
Requirement: the ignition must be switched on.
Selecting a tab
Press the button 3 repeatedly until the desired tab is selected.
Returning to functions at higher levels
Press the button 5.
Opening and closing the menu
Press the button 6.
Selecting and confirming a function
Requirement: a menu or list must be displayed.
To select a function, turn the left thumbwheel 7 to the desired function:
To confirm a selection, press the left thumbwheel 7.
Switching the view
The following tabs may be available, depending on vehicle equipment: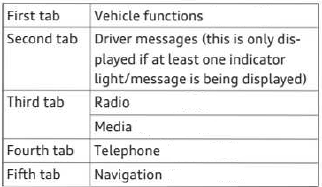 READ NEXT:
Fig. 6 Center display: adjusting the display Switching the view Applies to: Audi virtual cockpit Press the VIEW button to switch between the default view 1 and the enhanced view 2. Adjusting the
The tachometer 2 displays the engine speed in revolutions per minute (RPM). The beginning of the red zone in the tachometer indicates the maximum permissible engine speed for all gears once the engine
Applies to: vehicles with engine oil temperature indicator Depending on the vehicle equipment, the engine oil temperature may be indicated by a bar in the instrument cluster. Open the vehicle func
SEE MORE:
Belt retractor lock The safety belts on the rear seats and on the front passenger seat are equipped with a belt retractor lock. If you secure a child safety seat with a safety belt, the belt retractor lock on the safety belt may need to be activated. Follow the instructions from the child safet
Data collection Applies to: vehicles with data collection Depending on the country, Audi may collect data for the following purposes, for example: offer and product optimization, public safety, provision of Audi connect remote vehicle services, and adaptation to customer expectations. For example, v