Audi Q3: Driver intervention request
Applies to: vehicles with adaptive cruise assist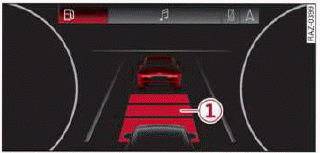 Fig. 105 Instrument cluster: request for driver intervention
The request for driver intervention instructs you to resume manual control of the vehicle if the adaptive cruise assist braking function is not able to maintain a sufficient distance to the vehicle ahead. The system will warn you of the hazard with the

indicator light and the message Distance! An audio signal will also sound The display 1 only appears when the Driver assistance display is open in the trip computer.
WARNING
Observe the safety precautions and note the limits of the assist systems, sensors, and cameras.
Adjusting the adaptive cruise assist
Applies to: vehicles with adaptive cruise assist
You can adjust the adaptive cruise assist to your own preferences. The settings depend on the vehicle equipment.
Applies to: MMI: Select on the home screen: VEHICLE > Driver assistance > Adaptive cruise assist.
Possible settings:
Lane guidance1) - You can set if lane guidance should be on or off when adaptive cruise assist control is active.
1) The setting can only be accessed when lane departure warning is switched on.
Applies to: vehicles without Audi drive select
Driving program - Depending on the selected driving program and distance, the vehicle handling will be adjusted from Sport to Comfort.
Applies to: vehicles with Audi drive select
Vehicle handling will be adjusted based on the selected Audi drive select mode.
Store last distance - The last distance that was set will be stored after the ignition is switched off. If the distance is not stored, distance

(time distance of approximately 1.8 seconds) is automatically preset every time the ignition is switched on.
Predictive control > Set speed limit - adaptation to speed limits can be switched On or Off. Regulation With tolerance can also be selected, if desired.
In this scenario, you may fall below or exceed the set speed in favor of increased efficiency.
Predictive control > Adjustment to curves along route - regulation based on the road ahead can be switched Off or set from Slow to Fast based on your preference. The setting influences vehicle handling with predictive control, for example the speed for driving through curves.
Messages
Applies to: vehicles with adaptive cruise assist
If

or

displayed when there is a malfunction, the adaptive cruise assist functions may be unavailable or limited.
A message that indicates the cause and possible solution may appear with some displays. The weather conditions may be too poor or a sensor may be covered. Clean the area in front of the sensors and try to turn the system on again later.
If the malfunction remains, drive to an authorized Audi dealer or authorized Audi Service Facility immediately to have the malfunction corrected.

Please take over!
This message appears if the vehicle rolls back when starting on a slight incline, even though the systems are active. Press the brake pedal to prevent the vehicle from rolling or starting to move.
The message will also appear, for example if the steering power from the system is not sufficient and adaptive cruise assist is switched off.
READ NEXT:
Description Applies to: vehicles with distance warning Fig. 106 Instrument cluster: display of the current distance Fig. 107 Instrument cluster: distance warning General information At speeds above
General information Applies to: vehicles with lane departure warning The lane departure warning can detect lane marker lines within the limits of the system. If you are approaching a detected lane mar
Function overview Applies to: vehicles with Audi pre sense Within the limits of the system, the Audi pre sense functions can initiate measures in certain driving situations to protect the vehicle occu
SEE MORE:
Description Applies to: vehicles with speed warning system The speed warning system helps the driver to stay below a specified maximum speed. A warning threshold can be set in the MMI for this purpose. Once the speed slightly exceeds the stored threshold, the speed warning system will alert the dri
The child safety lock prevents the rear doors from being opened from the inside and the rear power windows from being operated. Fig. 33 Drive's door: controls Fig. 34 Rear door: manual child safety lock Vehicles with button Applies to: vehicles with power child safety locks To activate and deac