Audi Q3: Distance warning
Description
Applies to: vehicles with distance warning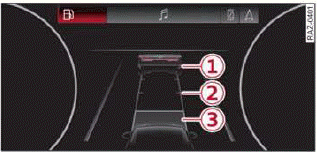 Fig. 106 Instrument cluster: display of the current distance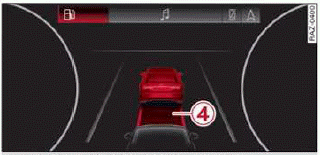 Fig. 107 Instrument cluster: distance warning
General information
At speeds above approximately 40 mph (65 km/h), this function measures the distance to the vehicle ahead as time. If the distance falls below the warning threshold and remains there, the system will warn you of the hazard with the

indicator tight.
Image in the Driver assistance display
Applies to: vehicles with adaptive cruise assist
The display only appears if the Driver assistance display is selected on the on-board computer and the adaptive cruise assist is not actively controlling the vehicle.
Detected vehicle driving ahead
Use the markings to help you estimate the distance to an obstacle. Each marking represents approximately one second.
Set warning threshold. Depending on the settings, the display will be colored in from the bottom to the top.
The actual distance is smaller than the set distance and you will be informed about the danger.
Adjusting the distance warning
You can turn the distance warning on or off in the MMI, or adjust it to your preference. The settings depend on the vehicle equipment.
Applies to: MMI: Select on the home screen: VEHICLE > Driver assistance > Distance warning.
Possible settings:
Messages
If

or

displayed when there is a malfunction, the distance warning functions may be unavailable or may be limited.
A message that indicates the cause and possible solution may appear with some displays. The weather conditions may be too poor or a sensor may be covered. Clean the area in front of the sensors and try to turn the system on again later.
If the malfunction remains, drive to an authorized Audi dealer or authorized Audi Service Facility immediately to have the malfunction corrected
WARNING
Observe the safety precautions and note the limits of the assist systems, sensors, and cameras.
Tips
The driver is always responsible for adhering to the regulations applicable in the country where the vehicle is being operated.
You may fall below the warning threshold briefly when passing or when quickly approaching a vehicle driving ahead. There is no warning in this scenario. A warning is given only if you fall below the warning threshold for an extended period of time.
READ NEXT:
General information Applies to: vehicles with lane departure warning The lane departure warning can detect lane marker lines within the limits of the system. If you are approaching a detected lane mar
Function overview Applies to: vehicles with Audi pre sense Within the limits of the system, the Audi pre sense functions can initiate measures in certain driving situations to protect the vehicle occu
Applies to: vehicles with Audi pre sense basic Audi pre sense basic is automatically active at speeds of approximately 20 mph (30 km/h) and higher. Audi pre sense basic can trigger the Audi pre sense
SEE MORE:
Fig. 46 Windshield wipers: changing the wiper blades Wiper blade replacement position Switch off the ignition and hold the windshield wiper lever in position 4 fig. 44 until the windshield wiper moves into the wiper blade replacement position. To bring the windshield wipers into the normal
Battery general information Because of the complex power supply, all work on batteries such as disconnecting, replacing, etc., should only be performed by an authorized Audi dealer or authorized Audi Service Facility. Multiple batteries with different technologies may be installed in your vehicle: