Audi Q3: Traffic incidents
Introduction
Applies to: vehicles with navigation system and online traffic information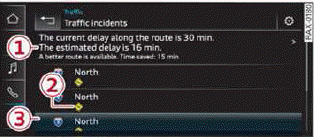 Fig. 135 Traffic information overview
Open traffic information
Requirement: the map must be displayed.
Press on the traffic jam symbol in the side menu on the map fig. 131.
Display traffic report details
Press on the traffic report 2.
To display the previous or next traffic report, press or .
The following information can be displayed:
A message will appear if the MMI calculates a better route for the current route guidance.

The predicted delay takes into account future changes to the traffic situation on the route.

Press on an item in a list and select the better route. More information can be found under.

A traffic message is displayed. The distance to the hazardous area is calculated from the current vehicle position.
The traffic messages are only shown when route guidance is active. Press on a line to display details about it.
Tips
Particularly critical traffic information, such as warnings about wrong-way drivers, is automatically displayed as a notification.
Traffic information is not available in some countries.
Traffic rerouting
Applies to: vehicles with navigation system
By receiving traffic information, your MMI calculates a better route if available and the possible time saved compared to the current route.
Traffic rerouting
The MMI uses a notification or a note in the traffic information 1

fig. 135 to indicate a better route. You can decide which route you would like to use.
To select a better route, you have the following options:
Online traffic information
Applies to: vehicles with navigation system and online traffic information
The MMI can receive real-time online traffic information about congestion, accidents, road construction, and other incidents.
Requirement: the MMI must be connected to the Internet. Traffic information must be switched on in the MMI.
Traffic information will be displayed on the standard map
fig. 137.
Depending on vehicle equipment, online traffic information may also be displayed on the satellite map.
Tips
READ NEXT:
Applies to: vehicles with navigation system You can adjust the navigation system settings in the instrument cluster and in the MMI display separately. The settings depend on the country and vehicle e
Selecting the radio Fig. 136 Center display: FM station list Fig. 137 Center display: SiriusXM station list Depending on the vehicle equipment, the radio may support the FM, AM, and SiriusXM (satell
SEE MORE:
Applies to: vehicles with Start/Stop system The system checks if certain conditions are met before and during the Stop phase, and determines if the engine stops and how long it remains stopped. For example, if power usage is high, the engine will not be stopped. Along with other conditions, the foll
Fig. 85 Emergency release at the lower left Fig. 86 Emergency release at the upper right Depending on the version, the emergency release will be located under the shifter boot, either to the lower left or to the upper right. The procedure differs depending on the version. Emergency release at the