Audi Q3: General information
Selecting the radio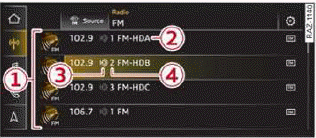 Fig. 136 Center display: FM station list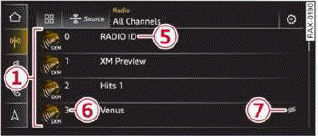 Fig. 137 Center display: SiriusXM station list
Depending on the vehicle equipment, the radio may support the FM, AM, and SiriusXM (satellite radio) frequency bands. Using the HD Radio receiver also allows you to receive radio stations on the FM and AM bands in digital format.
Depending on the vehicle equipment and the selected station list, the following information will be displayed:
Station list
Shows the stations that are currently available.
The station list updates automatically.
Stations
For example, the station name may be displayed depending on availability.
HD Radio technology
FM/AM stations that can be received by digital radio are marked with the HD Radio technology symbol .
If reception quality declines, the radio automatically switches to the analog FM/AM station depending on availability.
Additional audio programs
Digital HD Radio stations may contain multiple additional audio programs. If you lose reception, the additional audio programs will be muted since they can no longer be received.
Radio ID
Your radio ID and contact data for your satellite radio provider are displayed
Channel number
No reception
The station cannot be received.
In addition to the symbols for the usual frequency bands, the following information may also be available depending on vehicle equipment:

The station provides information in the background for an online station alternative. Online station tracking

The station is received through the Internet.

The system attempts to receive the station/podcast through the Internet.
Tips
Contact the SiriusXM provider if you would like to receive satellite programming.
Buildings, tunnels, bridges, open areas, other vehicles or objects on the vehicle roof can affect reception.
Satellite radio is not available in all regions.
Adjusting the radio using the MMI
Applies to: MMI: To set a frequency band, select on the home screen: RADIO > Source a category.
Applies to: MMI: To set a station, select on the home screen: RADIO > Source > a category > a station/podcast.
To select a frequency, follow the instructions under.
Adjusting the radio using the multifunction steering wheel
Requirement: radio mode must be on.
Select the radio/media tab in the instrument cluster.
Press the button to toggle between the radio and media or to select a different source.
To select a station or a source, turn and press the left thumb wheel.
Tips
Applies to: multifunction steering wheel: Depending on the selected function, operation through the MMI may be required.
READ NEXT:
Overview Fig. 138 Center display: left side: playback view of radio functions, right side: sources Operating Applies to: MMI: To open the playback view 1, select on the home screen: RADIO > S
General information Applies to: vehicles with Audi connect Infotainment and online radio You can listen to various radio stations or podcasts on the Internet using online radio. Requirement: the MMI
Options Requirement: the playback view 1 fig. 138 must be displayed. Press More 18, or Requirement: a list with radio stations or podcasts must be displayed fig. 136. Press and hold an entry i
SEE MORE:
Applies to: vehicles with navigation system and satellite map You can display the navigation map with satellite images. Requirement: the MMI must be connected to the Internet. Applies to: MMI: Select on the home screen: NAVIGATION > > Map settings > Satellite map1). The map view is
When the ignition is switched on, you may be able to use multiple power sources for external devices, depending on the vehicle equipment. 12 volt sockets You can connect electrical accessories to the 12 volt sockets. The power usage from the sockets must not exceed a total of 120 watts. Do not conne