Audi Q3: Securing child safety seats to the lower LATCH anchors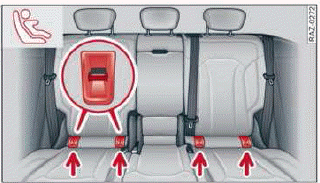 Fig. 65 Rear bench seat: lower LATCH anchors
In the United States and Canada, child safety seats can be secured without safety belts using the LATCH system. LATCH stands for Lower Anchors and Tethers for Children. In Canada, similar systems are called UCRA, LUAS, or UAS.
The lower LATCH anchors in your vehicle are located on the outer seats of the rear bench seat between the seat surface and the backrest. These seating locations each have two lower LATCH anchors that can be used to secure a LATCH child safety seat. Marking points with a

fig. 65 symbol are located on the covers for the lower LATCH anchors. You can locate the LATCH anchors using the marking points.
Applies to: vehicles with forward/back adjustable rear bench seat: Move the rear seat all the way back.
Activate the child safety lock.
Remove the cover from both lower LATCH anchors.
If you secure a child safety seat to the rear seat, secure any unused safety belts that are within reach of the child.
Secure the child safety seat according to the child safety seat manufacturer instructions.
Pull on the child safety seat to check if both sides are engaged correctly in the LATCH anchors.
If possible, also secure the child safety seat to the respective top tether anchor in the vehicle.
WARNING
The LATCH anchors in the vehicle are only designed for child safety seats with the LATCH system. To reduce the risk of serious or fatal injury, never secure other child restraint systems, belts, or objects to the anchors.
Tips
The LATCH anchors are designed for a total weight (child and child safety seat combined) up to 65 lbs (29 kg). If the total weight is greater than this, the child safety seat must be secured with the vehicle safety belt.
READ NEXT:
Observe the safety precautions. The front passenger's seat is a dangerous location for a child, even with an advanced airbag system. If exceptional circumstances require the child safety seat to be pl
Fig. 66 Rear backrest: top tether anchors to secure a child safety seat with an upper belt Fig. 67 Rear backrest: securing the upper belt to the top tether anchor Observe the safety precautions. Th
Fig. 68 Rear bench seat: securing unused safety belts If a child safety seat is used on the rear bench seat, the child must not be able to reach any safety belts that are not being used. Secure safet
SEE MORE:
Accessing the telephone functions Applies to: vehicles with telephone Fig. 124 Center display: selection menu Requirement: a mobile device must be connected to the MMI. Applies to: MMI: Select on the home screen: PHONE. Possible telephone functions: Search Call list Favorites Contacts Voi
Switching on and off Applies to: vehicles with steering wheel heating Press the button on the multifunction steering wheel to switch the steering wheel heating on and off. Messages Applies to: vehicles with steering wheel heating The following messages may appear depending on the vehicle equ