Audi Q3: Additionally securing a child safety seat to the top tether anchor

Fig. 66 Rear backrest: top tether anchors to secure a child safety seat with an upper belt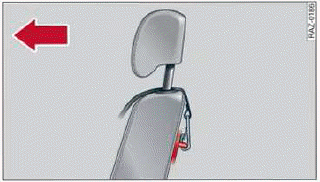 Fig. 67 Rear backrest: securing the upper belt to the top tether anchor
Observe the safety precautions.
There is a top tether anchor behind every seat in the rear bench seat to additionally secure a child safety seat with an upper belt.
Move the head restraint behind the child safety seat upward.
Secure the child safety seat according to the child safety seat manufacturer instructions.
Guide the upper belt on the child safety seat under the head restraint or along both sides of it and toward the rear (depending on the child safety seat model).
Fasten the belt to the top tether anchor fig. 67. While doing this, make sure the belt is not twisted and is not running over any sharp edges.
Pull the belt tightly so that the child safety seat rests at the top of the seat backrest.
If necessary, move the head restraint behind the child safety seat downward.
WARNING
The top tether anchors in the vehicle are only designed for child safety seats equipped with an upper strap. To reduce the risk of serious or fatal injury, never secure other child restraint systems, belts, or objects to the anchors.
READ NEXT:
Fig. 68 Rear bench seat: securing unused safety belts If a child safety seat is used on the rear bench seat, the child must not be able to reach any safety belts that are not being used. Secure safet
When the ignition is switched on, you may be able to use multiple power sources for external devices, depending on the vehicle equipment. 12 volt sockets You can connect electrical accessories to the
SEE MORE:
Operating the parking brake The electromechanical parking brake is used to secure the vehicle from rolling away unintentionally. The switch is located under the selector lever in the center console. It turns on when the parking brake is set. You can release the parking brake manually or automatic
If the engine oil level is too low Fig. 147 Engine oil sticker Engine oil viscosity Engine oil standard If you need to add engine oil, use an oil that meets the engine oil standard listed on the sticker fig. 147. The sticker with the specified standard is located in the front of the engine co