Audi Q3: Securing unused safety belts on the rear bench seat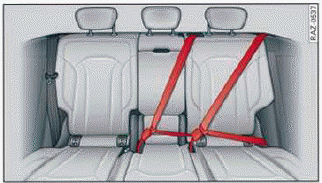 Fig. 68 Rear bench seat: securing unused safety belts
If a child safety seat is used on the rear bench seat, the child must not be able to reach any safety belts that are not being used. Secure safety belts that are within reach of the child.
WARNING
A child in a child safety seat could play with the unused safety belts and then become entangled in them, which increases the risk of fatal injury. Always secure unused safety belts so that they are not within reach of children in child safety seats.
READ NEXT:
When the ignition is switched on, you may be able to use multiple power sources for external devices, depending on the vehicle equipment. 12 volt sockets You can connect electrical accessories to the
Applies to: vehicles with cup holders Fig. 69 Front center console: cup holders Fig. 70 Rear center armrest: cup holders Cup holders in the front center console Set your beverage in the holder 1.
SEE MORE:
Fig. 15 Center display: frequently used symbols in the status bar The symbols in the status bar show you information at a glance, such as if a mobile device is connected or if there is a data connection. The most common symbols are listed in the table. There is a data connection. The bar indicat
Description Electronic Stabilization Control (ESC) supports driver safety. It reduces the risk of slipping and improves driving stability. ESC detects critical situations, such as if the vehicle is over steering or under steering, or if the wheels are spinning. The brakes are applied or the motor to