Audi Q3: Options and settings
Options
Context-dependent functions and settings may be available depending on vehicle equipment, the selected source, the connected mobile device, and the connection type.
Requirement: the playback view must be displayed 1

fig. 141.
Play more like this
The track currently playing is quickly analyzed for features such as artist, genre, mood, and beat, and a smart playlist with similar tracks will be shown.
Aspect ratio
Audi recommends the Auto setting for the picture format. If you press on an aspect ratio, you will see a preview of the setting on the screen.
Press OK to apply the selected aspect ratio.
The following table gives an overview of the aspect ratios. The possible aspect ratios depend on the source or video file being played.

The MMI detects the picture format of the source and displays the image in the optimal ratio.

The image is fixed in the corresponding ratio. Select one of these options if the image is distorted or a section of the image is cut off or blurry when Auto is selected.

The image is enlarged to fill the entire display.
The image is displayed in the ratio of the source format. Select this option if the image is distorted or a section of the image is cut off or blurry when Auto is selected.
Settings
Accessing settings
Applies to: MMI: Select on the home screen: MEDIA > .
Depending on the vehicle equipment, the following settings may be available:
Online additional data
Requirement: the MMI must be connected to the Internet. A data plan must be available.
When the function is switched on, additional in - formation (such as album cover, artist, track) will be loaded depending on the availability.
Supported media and file formats
Overview
Depending on the vehicle equipment, media files with the following properties may be supported by the connection for USB storage devices: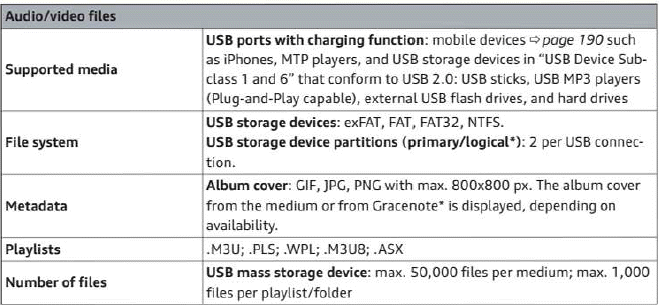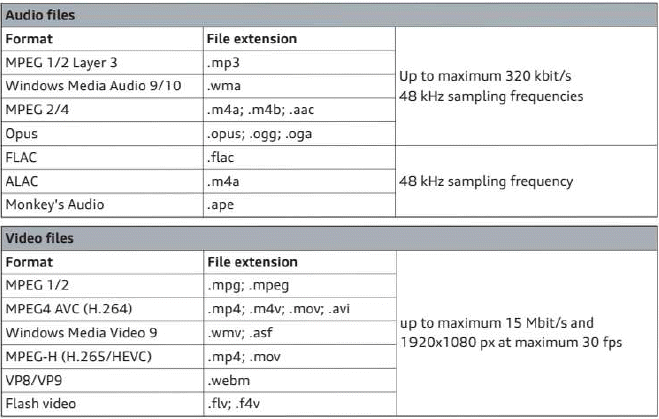 Tips
The media sources do not support the Windows Media Audio 9 Voice format.
For compressing MP3 files, Audi recommends a bit rate of at least 160 kbit/s. The display showing the remaining play time may differ for audio files with variable bit rate.
Special characters (such as those in ID3 tag information) may display differently or may not always display, depending on the system language.
The manufacturer of the storage device can provide information about its "USB Device Subclass".
Some MTP player functions are not supported, such as rating music tracks and video playback.
Troubleshooting
The information that follows lists some troubleshooting options. They depend on the equipment.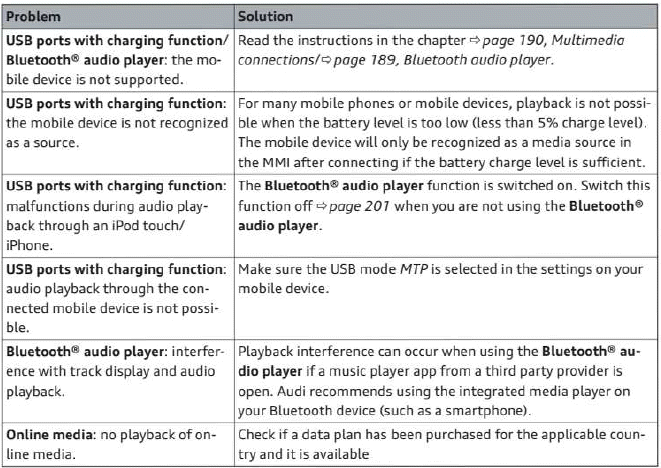 READ NEXT:
Setup Applies to: vehicles with smartphone interface You can connect your smartphone to the MMI with a cable or wirelessly using the smartphone interface. Certain content on your smartphone is adapted
Introduction General settings are described in this chapter. You can find specific settings in the chapters about those settings. The available settings depend on the vehicle equipment. Date and time
SEE MORE:
Applies to: vehicles with navigation system You can enter additional destinations during active route guidance. Entering a stopover Requirement: route guidance must be active. Enter a destination. Displaying stopovers or the route plan All destinations are listed in the route plan. Press on in
Applies to: vehicles with navigation system and satellite map You can display the navigation map with satellite images. Requirement: the MMI must be connected to the Internet. Applies to: MMI: Select on the home screen: NAVIGATION > > Map settings > Satellite map1). The map view is