Audi Q3: Setting the central locking system
You can adjust the central locking system to your preferences. The settings depend on the vehicle equipment.
Applies to MMI: Select on the home screen: VEHICLE > Settings & Service > Central locking.
Door unlocking
If you select All, all doors and the luggage compartment lid will be unlocked when unlocking the vehicle.
If you select Driver's door, only the driver's door will be unlocked. To unlock all doors and the luggage compartment lid, press the button on the vehicle key twice. In vehicles with a convenience key, only the driver's door will unlock when you pull the driver's door handle. If you pull another door handle, the entire vehicle will be unlocked.
The entire vehicle will always be locked f you press the
button.
Long press to open windows
You can select if all windows and the panoramic glass roof should open using the vehicle key.
Fold mirrors
You can select if the exterior mirrors automatically fold in when locking.
Tone when locking 1)
You can select if an audio signal sounds when locking the vehicle.
1) This function is not available in all countries.
Central locking switch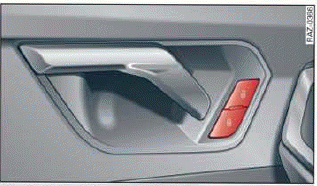 Fig. 21 Driver's door: central locking switch
To lock or unlock the vehicle, press the or button .
When locking the vehicle with the central locking switch, the following applies:
The doors and the luggage compartment lid cannot be opened from the outside for security reasons, for example, to reduce the risk of unauthorized entry while stopped at a light.
The LED in the central locking switch turns on when all doors are closed and locked.
You can open the doors individually from the inside by pulling the door handle one time. To open the rear doors individually, you must pull the door handle twice.
In the event of a crash with airbag deployment, the doors unlock automatically to allow access to the vehicle.
WARNING
Observe the safety precautions.
The central locking button works when the ignition is switched off.
The central locking switch is inoperative when the vehicle is locked from the outside.
Messages
The following messages may appear depending on the vehicle equipment:

Driver's door: malfunction! Shift to P before leaving vehicle. See owner's manual
There is a malfunction in the driver's door. Secure the vehicle before exiting by selecting the "P" selector lever position. Drive immediately to an authorized Audi dealer or authorized Audi Service Facility to have the malfunction repaired.
READ NEXT:
All doors must be unlocked or locked separately if the central locking system fails. Fig. 22 Driver's door: door lock cylinder Fig. 23 Door: mechanically locking Applies to: vehicles with anti-theft
Key set Fig. 24 Your vehicle key set Fig. 25 Vehicle key: PANIC button The key set includes two vehicle keys when delivered from the factory. Vehicle key You can unlock and lock your vehicle with
Fig. 26 Door handle: sensor for locking the vehicle Depending on the vehicle equipment, you may have various options for unlocking and locking your vehicle. The settings in the MMI specify which door
SEE MORE:
Description Applies to: vehicles with all wheel drive The all-wheel drive system distributes the driving power variably to the front and rear axle to improve the driving characteristics. It works together with selective wheel torque control, which can activate when driving through curves. The all-
Additional function buttons Fig. 19 Right side of the multifunction steering wheel Fig. 20 Volume knob with joystick function Adjusting the volume You can adjust the volume of an audio source or a system message (for example, from the voice recognition system) when the sound is playing. To raise