Audi Q3: Keys
Key set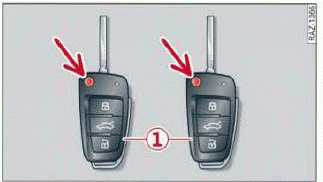 Fig. 24 Your vehicle key set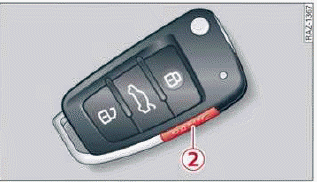 Fig. 25 Vehicle key: PANIC button
The key set includes two vehicle keys when delivered from the factory.
Vehicle key
You can unlock and lock your vehicle with the vehicle key. To fold the key out, press the release button
fig. 24.
If necessary, you can use the vehicle key to:
Applies to: vehicles with lockable glove compartment: locking/unlocking the glove compartment.
Manually unlock and lock the doors.
Unlock the luggage compartment lid using the emergency release.
PANIC button
In an emergency, you can press the PANIC button to trigger a visible and audible vehicle alarm. You can do this ass long as you are near your vehicle (within the range for the remote control key).
To trigger the alarm, press the button 2 fig. 25.
To turn the alarm off, press the button again.
Lost key/replacing a key
If a vehicle key is lost, contact an authorized Audi dealer or authorized Audi Service Facility. Have this vehicle key deactivated. It is important to bring all keys with you. If a key is lost, you should report it to your insurance company.
Applies to: Audi connect vehicle control: If a mobile device with active Audi connect vehicle control (Remote Lock & Unlock) has been lost, it must be deactivated.
Electronic immobilizer
The immobilizer prevents unauthorized use of the vehicle.
In some cases, it may not be possible to establish vehicle drive ready mode if there is also a vehicle key from a different vehicle manufacturer on the key chain.
Data in the vehicle key
When driving, service and maintenance-relevant data is continuously stored in your vehicle key. An authorized Audi dealer or authorized Audi Service Facility can read out this data and tell you about the work your vehicle needs.
WARNING
Observe the safety precautions.
Note
Protect the key against high temperatures and direct sunlight.
For the sake of the environment

Batteries and electrical/electronic devices must be disposed of in an environmentally safe manner.
Tips
The vehicle key function can be temporarily disrupted by interference from transmitters near the vehicle working in the same frequency range (such as a mobile device or radio equipment). Always check if your vehicle is locked.
Applies to MMI: You can view the number of keys programmed to the vehicle by selecting on the home screen: VEHICLE > Settings & Service > Vehicle information.
A key tag that contains information about the vehicle key set may be attached to the key set at the factory. The key tag can be used to reorder vehicle keys. Keep the key tag. If you sell the vehicle, give the key tag to the buyer.
The system complies with United States FCC regulations and ISED regulations.
READ NEXT:
Fig. 26 Door handle: sensor for locking the vehicle Depending on the vehicle equipment, you may have various options for unlocking and locking your vehicle. The settings in the MMI specify which door
Fig. 27 Remote control key (rear side): opening the cover LED on the remote control key The LED in the remote control key (front side) indicates the status of the key. If you press a button briefly
General information WARNING Applies to: vehicles with anti-theft alarm system: When the vehicle is locked from the outside, no one, especially children, should remain in the vehicle, because the
SEE MORE:
Sensor and camera coverage areas Fig. 88 Sensor coverage area Fig. 89 Rearview camera coverage area The assist systems analyze the data from various sensors and cameras installed in the vehicle. Do not use any assist systems if there is damage in there area of the sensors and cameras or on the veh
Telephone settings Applies to: vehicles with telephone Applies to: MMI: Select on the home screen: PHONE > . The following options may be possible, depending on your mobile device: Decline with text message Edit voicemail number Switching between two mobile devices Requirement: phone 1 an