Audi Q3: Rear seats
General information
WARNING
To reduce the risk of an accident, only adjust the seat when the vehicle is stationary.
Be careful when adjusting the seat. Unsupervised or careless seat adjustment could cause parts of the body to get pinched, which increases the risk of injury.
Always pull forward on the backrest to make sure it is correctly locked in place.
Adjusting the seats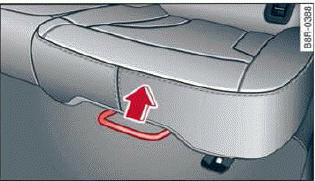 Fig. 52 Adjusting the position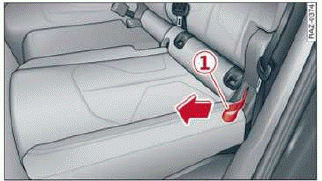 Fig. 53 Adjusting the backrests
Adjusting the seat position
To adjust the seat forward or back, pull the handle fig. 52 and slide the seat.
Release the handle and continue sliding the seat until it locks into place.
Adjusting the backrests
Support the backrest with one hand and pull the strap 1 at the same time.
Move the backrest forward or back to the desired position.
Release the strap and continue moving the backrest until it locks into place.
READ NEXT:
General information Make sure that: The distance between your upper body and the steering wheel is at least 10 inches (25 cm). Your arms are bent slightly at the elbows. You have a sufficient vie
General information Applies to: vehicles with adjustable head restraints Fig. 55 Correctly-adjusted head restraint Make sure that: The upper edge of the head restraint is as even as possible with
General information Each seat is equipped with a three-point safety belt. Safety belts that are worn correctly are the most effective way to reduce the risk of serious or fatal injuries in a collision
SEE MORE:
Preparation You must complete the preparation before changing a tire. Read and follow the important safety precautions. Set the parking brake. Select the "P" position. When towing a trailer: disconnect the trailer from your vehicle. Lay out the vehicle tool kit and the spare tire. Switch th
Accessory weight means the combined weight (in excess of those standard items which may be replaced) of automatic transmission, power steering, power brakes, power windows, power seats, radio, and heater, to the extent that these items are available as factory-installed equipment (whether installed