Audi Q3: Online roadside assistance
Description
Applies to: vehicles with online roadside assistance
An online roadside assistance call1) is a combination of data transmission and a phone call. The data transmission from your vehicle forwards important information to the Audi service center, such as the vehicle and position data.
1) The availability of the services offered depends on the country and may change in the future.
Calling online roadside assistance
Applies to: vehicles with online roadside assistance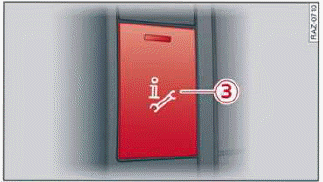 Fig. 127 Front headliner: online roadside assistance button
Calling online roadside assistance
Press the button 3. The LED in the button turns red. The online roadside assistance call will be made.
If you press the button 3 by mistake, then press it again.
Audi incident assistance
A minor accident may be detected by the vehicle electrical system. You are able to select between online roadside assistance and an emergency call in the MMI.
Tips
If the roadside assistance call is canceled due to a poor connection, then the call must be made again.
READ NEXT:
Applies to: vehicles with navigation system Fig. 128 Route guidance not started The navigation system directs you to your destination, around traffic incidents, and on alternative routes, if desired.
Applies to: vehicles with myAudi navigation MMI navigation works seamlessly with the myAudi app. Your destinations (favorites, last destinations) are synchronized through your myAudi account. All im
SEE MORE:
Fig. 15 Center display: frequently used symbols in the status bar The symbols in the status bar show you information at a glance, such as if a mobile device is connected or if there is a data connection. The most common symbols are listed in the table. There is a data connection. The bar indicat
Changing bulbs Audi recommends having bulbs replaced by an authorized Audi dealer or authorized Audi Service Facility in cases of doubt. These facilities have the correct tools and replacement parts as well as the required technical knowledge. LED lights Your vehicle is equipped with maintenance-fre