Audi Q3: LED and battery in the remote control key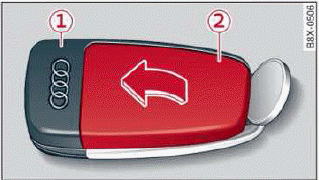 Fig. 27 Remote control key (rear side): opening the cover
LED on the remote control key
The LED in the remote control key (front side) indicates the status of the key.
If you press a button briefly, the LED blinks once.
If you press and hold a button (convenience opening/closing), the LED blinks several times.
If the LED does not blink, the vehicle key battery is drained. Replace the battery in the vehicle key.
Replacing the remote control key battery
The replacement battery in the remote control key must meet the same specifications as the original battery (battery type CR 2032).
Pry the cover 2 off of the key 1 using a coin fig. 27.
Insert the new battery with the "+" facing up.
Press the cover back onto the key until it clicks into place.
If the

indicator light appears with a corresponding message, the vehicle key battery is drained and must be replaced.
WARNING
If batteries or coin cell batteries are swallowed or enter the body in any other way, they can cause serious or fatal injuries within a short period of time. There is a risk of chemical burns.
Keep vehicle keys and key fobs with batteries out of the reach of children.
Keep new or used batteries away from children.
If the battery compartment on a vehicle key does not close securely, stop using the key and keep it away from children.
Seek medical attention immediately if you suspect that a battery was swallowed or has entered the body in any other way.
For the sake of the environment
Batteries and electrical/electronic devices must be disposed of in an environmentally safe manner.
Remote control key synchronization
The remote control key must be synchronized if the vehicle does not lock/unlock with the remote control.
Press the remote control key button.
Insert the key in the driver's door lock within 30 seconds.
Press the button or button.
READ NEXT:
General information WARNING Applies to: vehicles with anti-theft alarm system: When the vehicle is locked from the outside, no one, especially children, should remain in the vehicle, because the
Fig. 28 Rear lid: handle Fig. 29 Driver's door: opening the luggage compartment lid Opening the luggage compartment lid Applies to: vehicles without convenience key: Unlock the vehicle or the lug
Applies to: vehicles with automatic luggage compartment Fig. 30 Luggage compartment lid: 1 closing button, 2 lock button (vehicles with convenience key) The luggage compartment lid can be opened and
SEE MORE:
There are limits to the amount of load or weight that any vehicle and any tire can carry. A vehicle that is overloaded will not handle well and is more difficult to stop. Overloading can not only lead to loss of vehicle control, but can also damage important parts of the vehicle and can lead to sud
Fig. 64 Headliner: indicator light to display the status of the front passenger's airbag The Advanced Airbag System in your vehicle has been certified to comply with the requirements of the United States Federal Motor Vehicle Safety Standard (FMVSS) 208, as well as Canada Motor Vehicle Safety Stan