Audi Q3: Checking coolant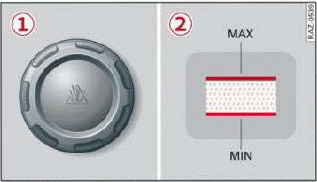 Fig. 150 Engine compartment - coolant expansion tank (diagram): 1 cover; 2 markings
Observe the safety precautions.
Checking the coolant level
Park the vehicle on a level surface.
Switch the ignition off.
Open the hood.
Check the coolant level in the coolant expansion tank fig. 146 using the outer markings 2 fig. 150. The coolant level must be between the markings 2 when the engine is cold. When the engine is warm it can be slightly above the upper marking.
When you add coolant to the expansion tank.
Adding coolant
Requirement: there must be a residual amount of coolant in the expansion tank.
If you must add coolant, use a mixture of water and coolant additive. Audi recommends mixing the coolant additive with distilled water.
Coolant loss usually indicates that there is a leak.
Immediately drive your vehicle to an authorized Audi dealer or authorized Audi Service Facility and have the cooling system inspected. If the cooling system is not leaking, coolant loss can result from the coolant boiling due overheating and then being forced out of the cooling system.
WARNING
Note
Do not continue driving if the coolant expansion tank is empty. Do not add any coolant, because air could enter the cooling system and damage the engine. See an authorized Audi dealer or authorized Audi Service Facility for assistance.
READ NEXT:
Fig. 151 Engine compartment: cap on brake fluid reservoir Observe the safety precautions. Checking the brake fluid level Park the vehicle on a level surface. Read the brake fluid level on the brak
The following messages may appear depending on the vehicle equipment: If the or indicator light turns on, there is a malfunction in the generator, the battery, or the vehicle electrical system. El
Battery general information Because of the complex power supply, all work on batteries such as disconnecting, replacing, etc., should only be performed by an authorized Audi dealer or authorized Audi
SEE MORE:
Applies to: vehicles with Audi pre sense You can switch Audi pre sense and the associated systems on or off, or adjust them individually. The settings depend on the vehicle equipment. Applies to MMI: Select on the home screen: VEHICLE > Driver assistance > Audi pre sense. Setting the prew
Applies to: vehicles with adaptive cruise assist Fig. 102 Operating lever: setting the distance When approaching a vehicle driving ahead, the adaptive cruise assist brakes to the set speed and then maintains the set distance. If the vehicle driving ahead accelerates, then the adaptive cruise assist