Audi Q3: Trailer hitch
Introduction
Only use a trailer hitch with a removable ball hitch mount and ball hitch. The trailer hitch must be permitted for the vehicle, the trailer and the permitted total weight of the trailer being pulled. Above all, it must be securely and safely attached to the vehicle trailer.
Never mount a trailer hitch on the bumper. The trailer hitch must be mounted in a way that does not impair the function of the bumper. Do not make any changes to the exhaust system and the brake system.
Check regularly if the trailer hitch is securely mounted. Always follow the instructions given by the trailer hitch manufacturer.
WARNING
Never mount a "weight-distributing" or "load-balancing" trailer coupler as the trailer hitch.
The vehicle was not designed for these types of trailer hitches. The trailer hitch can malfunction and the trailer can separate from the vehicle, which increases the risk of an accident.
Using the trailer hitch
Applies to: vehicles with trailer hitch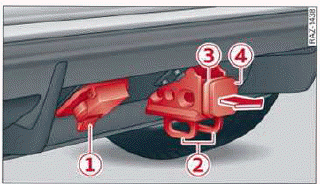 Fig. 87 Rear bumper: trailer hitch
The trailer hitch of your vehicle consists of the receiver 3, the connector1) 1 or connector retainer, two eyelets 2 for the safety chains, and the receiver cover 4.
The receiver 3 is suitable for securing a removable ball hitch mount with a ball head, for example when towing a trailer.
In order to use the trailer hitch, pull the cover 4 out of the receiver 3 in direction of the arrow.
Check the receiver 3 for dirt and clean it if necessary.
When towing a trailer, use the trailer connector1) 1 and secure the safety chains using the eyelets 2.
To prevent dirt from entering the receiver 3, close it with the cover 4 after using it.
1) In certain countries.
WARNING
For your own safety, read the installation instructions provided by the ball hitch mount manufacturer.
There is a risk of an accident if the ball hitch mount is installed incorrectly. The ball hitch mount must be secured in the receiver 3 correctly. The same applies to accessories that are secured in the receiver.
Only use a ball hitch mount with ball head suitable for your vehicle and your trailer.
To reduce the risk of injury, always remove the ball hitch mount if no trailer is mounted.
To reduce the risk of an accident, contaminants on the trailer hitch must be removed because otherwise the ball hitch mount might not be secured correctly in the receiver.
Tips
No ball hitch mount or ball head is provided with the trailer hitch. You can purchase these at specialty stores.
The eyelets on the trailer hitch are only intended for securing the trailer safety chains.
READ NEXT:
Trailer brakes If the trailer has its own brake system, then follow the manufacturer specifications. However, the brake system on the trailer must never be connected to the vehicle brake system. Safet
Safety precautions WARNING As the driver, you are always completely responsible for all driving tasks. The assist systems cannot replace the driver's attention. Give your full attention to drivin
SEE MORE:
Applies to: vehicles with adaptive cruise assist and lane guidance Fig. 101 Turn signal lever: button for lane guidance and lane departure warning Within the limits of the system, lane guidance provides corrective steering to assist the driver with keeping the vehicle in the center of the lane as m
General information The combination of a rim and tire will be referred to as a wheel in this Owner's Manual. If only one of the components is referred to, then the term tire or rim will be used. Check your tires regularly for damage, such as punctures, cuts, cracks, and bulges. Remove foreign o