Audi Q3: Spare tire
Removing the subwoofer
Applies to: vehicles with subwoofer
The subwoofer must be removed before the spare tire/temporary spare tire can be removed.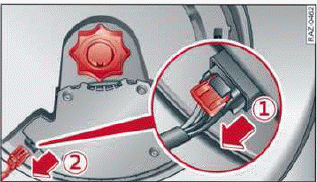 Fig. 166 Spare tire well: subwoofer
Removing the subwoofer
Pull out the red connector lock 1.
Remove the connector 2 and set the disconnected cable aside.
Turn the handwheel counter-clockwise and remove it.
Carefully remove the subwoofer.
Installing the subwoofer
Space-saving spare tire
Applies to: vehicles with space-saving spare tire (compact spare tire)
The spare tire is intended for short-term use only.
Have the damaged tire checked and replaced if necessary by an authorized Audi dealer or authorized Audi Service Facility as soon as possible.
There are some restrictions on the use of the compact spare tire. The compact spare tire has been designed specifically for your type of vehicle.
Do not replace it with the spare tire from another type of vehicle.
The compact spare tire is located in the luggage compartment under the cargo floor.
The tire pressure must be adjusted to a specified value listed on the tire pressure sticker

fig. 157.
Snow chains
For technical reasons, the use of snow chains on the compact spare tire is not permitted.
If you have to drive with snow chains and a front tire fails, mount the spare tire in place of a rear tire. Install the snow chains on the rear tire that you removed, and install that in place of the front tire that failed.
WARNING
READ NEXT:
Preparation You should only perform the steps that follow if you have the necessary tools and technical expertise. If the engine does not start because the vehicle battery is drained, you can jump sta
General information You should only perform the steps that follow if you have the necessary tools and technical expertise. Towing requires a certain amount of practice. Audi recommends contacting a t
SEE MORE:
General information Each seat is equipped with a three-point safety belt. Safety belts that are worn correctly are the most effective way to reduce the risk of serious or fatal injuries in a collision. Therefore, wear your safety belt correctly and make sure that all vehicle passengers are also wear
Manual dimming rearview mirror Pull the lever on the bottom of the mirror back. Automatic dimming rearview mirror The interior and exterior mirrors dim automatically when light shines on them, for example from headlights on a vehicle behind you. WARNING Applies to: vehicles with automatic di