Audi Q3: Fuses
Replacing fuses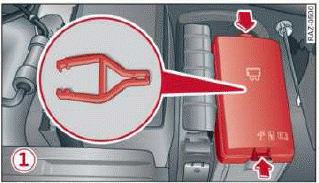 Fig. 171 Left side of the engine compartment: fuse cover 1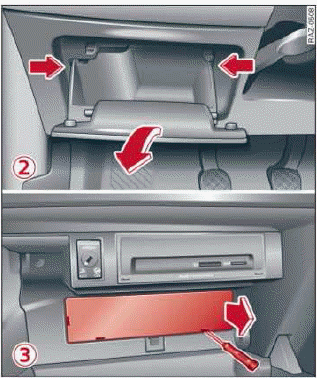 Fig. 172 Left side of the cockpit: storage compartment (left-hand drive) 2 or storage compartment (right-hand drive) 3
Fuses are installed in various locations in your vehicle.
The following information only lists fuses that you can change yourself. To have other fuses changed, contact an authorized Audi dealer or authorized Audi Service Facility. The following table does not list fuse locations that are not used.
A fuse that has blown will have metal strips that have burned through.
The fuses are located in the left side of the engine compartment 1, or behind the storage compartment in the left side of the cockpit 2 (left-hand drive vehicles) or the glove compartment 3 (right-hand drive vehicles).
Switch the ignition and all electrical equipment off.
Check the table that follows to see which fuse belongs to the affected equipment.
Remove the screwdriver from the vehicle tool kit.
Remove the appropriate cover.
Remove the clamp from the rear side of the fuse cover 1.
Remove the fuse using the clip.
Replace the blown fuse only with a fuse that, has the same amp rating.
Install the cover.
Fuse color identification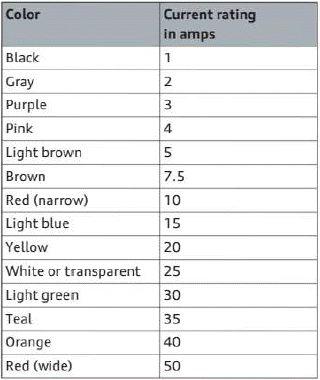 WARNING
Do not repair fuses and never replace a blown fuse with one that has a higher amp rating.
This can cause damage to the electrical system and increases the risk of fire.
Note
If a new fuse burns out again shortly after you have installed it, have the electrical system checked as soon as possible by an authorized Audi dealer or authorized Audi Service Facility.
Tips
Some of the equipment listed in the following tables applies only to certain model versions or certain optional equipment.
Fuse assignment - engine compartment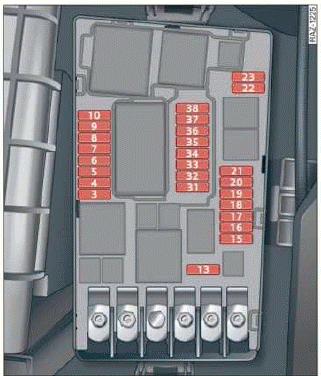 Fig. 173 Left side of engine compartment: fuse assignment
3. Drive system control module
4. Engine components, engine start
5. Engine components
6. Brake light sensor
7. Engine components
8. Heated oxygen sensors
9. Engine components
10. Fuel pump
13. Transmission fluid pump
15. Horn
16. Engine components, engine electronics, on-board charger, power electronics
17. Electronic Stabilization Control (ESC), drive system control module
18. Battery monitoring control module, diagnostic interface
19. Windshield wiper control module
20. Anti-theft alarm system, garage door opener
21. Automatic transmission
22. Drive system control module
23. Engine start
31. Engine components, fuel injectors, electric drive system
33. Brake booster
35. Climate control system
36. Left headlight
37. Parking heater
38. Right headlight
Fuse assignment - cockpit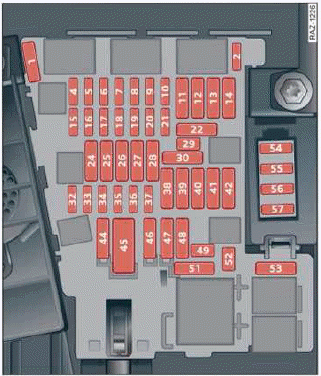 Fig. 174 Left side of cockpit: fuse assignment
1. Exhaust treatment
2. Seat electronics, front seats
4. Infotainment system, volume control
5. Diagnostic interface
6. Ignition key safety interlock, selector lever (automatic transmission)
7. Auxiliary heating, climate control system control panel, tire pressure monitoring system
8. Headlight range control, interior monitoring, ambient lighting, light switch, roof electronics control module, emergency call module, parking brake, diagnostic connector, light/rain sensor, particulate matter sensor
9. Steering column electronics
10. Infotainment system, volume control
11. Vehicle electrical system control module
12. Infotainment system
13. Driver's side safety belt tensioner, airbag control module
14. Climate control system blower
15. Electronic steering column lock
16. Audi phone box, Electronic Toll Collection System (ETC)
17. Instrument cluster, emergency call and communication control module
18. Rearview camera, peripheral cameras
19. Convenience access and start authorization control module
20. Exhaust treatment, fuel leak diagnosis
21. Steering column electronics
24. Vehicle electrical system control module
25. Driver side door control module, left rear window regulator motor, left rear door control module
26. Vehicle electrical system control module
27. Vehicle electrical system control module
29. Roof electronics control module, vehicle electrical system control module
30. 48 volt battery, electric drive system
32. Driver assistance systems, camera systems
33. Front passenger's seat electronics, roof electronics control module
34. A/C system components, parking brake, reverse lights, engine sound control module
35. Air quality sensor, diagnostic connector, center console switch module, rearview mirror, headlight range control, instrument illumination
39. Passenger side do or control module, right rear window regulator motor, right rear door control module
40. 12 volt socket
41. Passenger's side safety belt tensioner
42. Vehicle electrical system control module
44. All wheel drive control module
45. Driver's seat electronics
47. Rear window wiper
48. Exterior sound generator
49. Engine start, clutch position sensor, electric drive system
52. Suspension control
53. Rear window defogger
54. Left trailer hitch light
55. Trailer detection control module
56. Right trailer hitch light
57. Trailer hitch socket
READ NEXT:
Changing bulbs Audi recommends having bulbs replaced by an authorized Audi dealer or authorized Audi Service Facility in cases of doubt. These facilities have the correct tools and replacement parts a
SEE MORE:
Function overview Applies to: vehicles with Audi pre sense Within the limits of the system, the Audi pre sense functions can initiate measures in certain driving situations to protect the vehicle occupants and other road users. Depending on the vehicle equipment, various Audi pre sense systems may b
Accessing the telephone functions Applies to: vehicles with telephone Fig. 124 Center display: selection menu Requirement: a mobile device must be connected to the MMI. Applies to: MMI: Select on the home screen: PHONE. Possible telephone functions: Search Call list Favorites Contacts Voi