Audi Q3: Digital compass
Switching the compass on and off
Applies to: vehicles with digital compass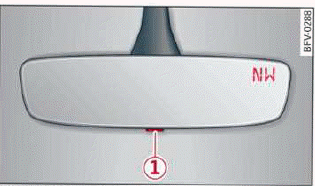 Fig. 48 Rearview mirror: digital compass is switched on
To turn the compass on or off, press the button 1 until the compass display in the mirror turns on or off.
The digital compass only works when the ignition is turned on. The directions are indicated with abbreviations: N (north), NE (northeast), E (east), SE (southeast), S (south), SW (southwest), W (west), NW (northwest).
Tips
To prevent inaccurate compass readings, do not bring any remote controls, electrical devices or metallic objects near the mirror.
Adjusting the magnetic zone
Applies to: vehicles with digital compass
The magnetic zone must be adjusted correctly for the compass to read accurately.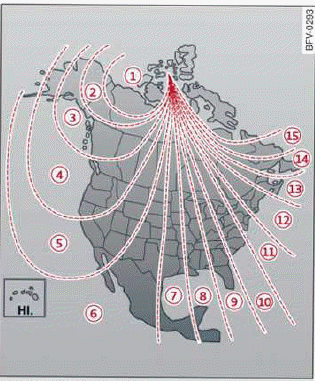 Fig. 49 Magnetic zone map
Press and hold the button 1 fig. 48 until the number of the magnetic zone appears in the interior rearview mirror.
Press the button 1 repeatedly to select the correct magnetic zone. The selection mode turns off after a few seconds.
Calibrating the compass
Applies to: vehicles with digital compass
You must recalibrate the compass if it does not display the correct direction.
Press and hold the button 1 until a C fig. 48 appears in the rearview mirror.
Drive in a circle at about 6 mph (10 km/h) until a direction is displayed in the rearview mirror.
WARNING
To reduce the risk to yourself and other drivers, calibrate the compass in an area where there is no traffic.
READ NEXT:
General information As the driver, you are responsible for making sure every passenger is sitting correctly in their seat and maintaining this seating position while driving. Make sure that: Every
General information Make sure that: You can press the pedals down completely while your legs are slightly bent. The distance between your upper body and the steering wheel or instrument panel is
SEE MORE:
Applies to: vehicles with Bluetooth audio player With the Bluetooth audio player, you can play music wirelessly through the MMI from your Bluetooth-capable mobile device (such as a cell phone). Requirement: the vehicle must be stationary and the ignition must be switched on. The Bluetooth settings
Fig. 27 Remote control key (rear side): opening the cover LED on the remote control key The LED in the remote control key (front side) indicates the status of the key. If you press a button briefly, the LED blinks once. If you press and hold a button (convenience opening/closing), the LED blin