Audi Q3: Accelerator pedal
You can accelerate the vehicle using the accelerator pedal.
Maximum acceleration
If you press the accelerator pedal all the way down, the motor's full power will be used and you will reach maximum acceleration, also called "kick-down".
WARNING
The driving wheels could spin and the vehicle could swerve on slick or slippery road surfaces when using kick-down, which increases the risk of an accident.
Manually releasing the parking lock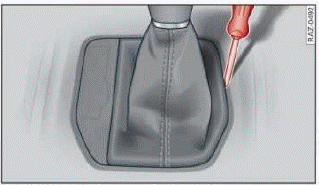 Fig. 84 Selector lever: removing the shifter boot
The emergency release is located under the selector lever shift gate. Using the emergency release can be complicated. See an authorized Audi dealer or authorized Audi Service Facility for assistance.
You will need the screwdriver from the vehicle tool kit to release it. Use the flat side of the reversible screwdriver blade. You might also need a very long screwdriver.
Removing the shifter boot
Secure the vehicle against rolling.
Switch the ignition off.
To loosen the shifter boot, carefully insert the flat side of the screwdriver sideways into the slit near the shifter boot fig. 85.
Carefully pry the shifter boot out with the screwdriver while gripping the boot at the fold with your hand and pulling it upward and out until all four corners are released fig. 86.
Fold the shifter boot up around the shifter knob.
Applies to: right-hand drive vehicles: Remove the gear trim and let it hang down to the side while still connected to the cable.
Releasing the parking lock using the emergency release
Operate the emergency release.
Attaching the shift cover
Applies to: right-hand drive vehicles: Place the gear trim back into the shift gate.
Clip the shift cover back into the shift gate.
WARNING
Only use the parking lock emergency release if the vehicle is secured against rolling. An unsecured vehicle may roll, which increases the risk of an accident.
Only activate the emergency release while on a level surface or a slight slope.
To reduce the risk of an accident, you must not drive when the emergency release is activated.
READ NEXT:
Fig. 85 Emergency release at the lower left Fig. 86 Emergency release at the upper right Depending on the version, the emergency release will be located under the shifter boot, either to the lower l
Breaking in A new vehicle must be broken in within the first 1,000 miles (1,500 km) so that all moving parts work smoothly together, which helps to increase the service life of the engine and other dr
Applies to: vehicles with Start/Stop system The Start/Stop system can help increase fuel economy and reduce CO2 emissions. In Start/ Stop mode, the engine shuts off automatically when stopped, for exa
SEE MORE:
Applies to: vehicles with adaptive cruise assist Fig. 105 Instrument cluster: request for driver intervention The request for driver intervention instructs you to resume manual control of the vehicle if the adaptive cruise assist braking function is not able to maintain a sufficient distance to the
Applies to: vehicles with navigation system Fig. 130 Details After you have selected a destination, the details will be displayed. Route guidance is will not be active yet. The functions depend on the vehicle equipment and the selected destination. Map preview: to zoom in on the map preview, pr